When:
14. September 2017 @ 18:30 Uhr
2017-09-14T18:30:00+02:00
2017-09-14T19:00:00+02:00
Where:
Fachhochschule Potsdam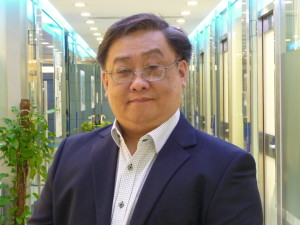 The Gesellschaft für Wissensmanagement e. V. proudly presents our highly distinguished guest from Hong Kong, Prof. Eric Tsui, who will share his insights on today's specific challenges on Knowledge Management. Please, join us for this special opportunity to look beyond the horizon.
Für weitere Informationen und Ihre Anmeldung kontaktieren Sie bitte den GfWM Vorstand. Mit Ihrer Anmeldung zum GfWM KnowledgeCamp sind Sie automatisch für die Horizon Speech Veranstaltung registriert.
For more details and registration, please, contact GfWM Vorstand. You need not register for this Horizon Speech event, if you are a participant of GfWM KnowledgeCamp.
Falls Sie nicht persönlich teilnehmen können, folgen Sie gerne unserem Livestream.
If you cannot participate, please, follow our live streaming.
With the advancements of internet technologies, cloud computing and hardware, digitalisation is indeed revolutionalising the manufacturing, products and services industries. This seminar will discuss the power of cloud computing, with all the massive array of equipments, software, and connections, functions as a canvas for orchestrating and delivering flexible knowledge services including crowdsourcing, ideation, micro-tasking and human-machine cooperative problem solving. However, in order to exploit the potential of the Cloud, some major unlearning and lessons learnt gained from Big Data research are needed. The second half of the talk will showcase a range of Big Data achievements from various industries including automobile, healthcare, transportation and retail..Success in Big Data not only requires an analytical and intuitive mind but often require unlearning e.g.  need to let go exactness for approximations. Among other things, one may need to bypass casual explanations and pattern matching to fully exploit the power of Big Data. New algorithms need to be developed. This talk will conclude with recommendations on managing knowledge in the age of digitalisation.
About the Speaker

Eric Tsui had spent 16 years in industry with Computer Sciences Corporation (CSC) in Australia taking on various capacities including Chief Research Officer and Innovation Manager. During this period, he has made significant contributions to the company's expert systems products, applied research and innovation programmes.
In 2002, he was appointed Professor of Knowledge Management at the Hong Kong Polytechnic University under the President's Distinguished Professionals Scheme; he joined the university full time in 2005. His specialty areas are Knowledge technologies including Search Engines, Portals, Personal Knowledge Management, Personal Learning Environments, and Knowledge Cloud services.
A Vice President of the Hong Kong Knowledge Management Society, he is also honorary advisor to the Hong Kong Police College, the Correctional Services Department and the Efficiency Unit, and a member of the IT Technical Advisory Sub-Committee of the Hospital Authority in the HKSARG. With a strong passion in teaching, Professor Tsui has received several international awards on Knowledge Management, Intellectual Capital and E-Learning including the Wharton QS Stars Reimagine Education Award and the LearnX Impact Award, as well as Shortlisted Finalist of the UGC Teaching Award in Hong Kong. Professor Tsui is listed as Outstanding Academic in PolyU's Annual Report 2014/5.
The GfWM Horizon Speech
GfWM Horizon Speech is a series of exceptional events. We invite highly distinguished speakers to share and discuss their perspective of the "big picture" – beyond everyday's horizon on knowledge and its "management". The keynote will be completed by an opportunity to discuss the aspects raised with the audience.
The sessions will be held in either German or English. We are looking very much forward to participants who join us looking beyond the horizon.